30th Anniversary Celebration!

Jack Boyle's
San Antonio Pottery
Annual Holiday Party and Sale


Saturday Dec 15th, 2007
7:00 - 10:00 PM
This year's invited artists:
Ken Snell - Wood Furniture & Sculpture
Maggie Clark - Clay Work
Dennis Devine and Friends - Music
and a special exhibition of individual art work
by invited Pasco County Art Educators:
Meg Roman from Sand Pines Elementary
Trudy Stugard from Fox Hollow Elementary
Bonni Markey - Hudson Elementary
Linda Whitman -St Anthony's
Deborah Gillars - Zephyrhills High School
Barbara Sessa - Business Person of the Year Award
from San Antonio Rotary Club
The Rotary Club of San Antonio chose Sess to receive its first Community Business Person of the Year award, citing her enthusiastic support of small businesses in her hometownof San Antonio.



Visit:http://pasco.tbo.com/pasco /MGBMMPZ7UVE.html
San Antonio Pottery Christmas Party and Sale
at San Antonio Pottery
December 16th, 2006 7PM - 10PM
Jack Boyle, Maggie Clark, and local artists will have artwork and pottery displayed, along with student work, at the annual Holiday Party and Sale. Unique Handmade gifts and music entertainmen will be provided. Live entertainment will be provided by Dennis  Devine and Valerie Fournier. Special guest, The Barking Dogs, made an appearance.
View photos from Christmas Party and Sale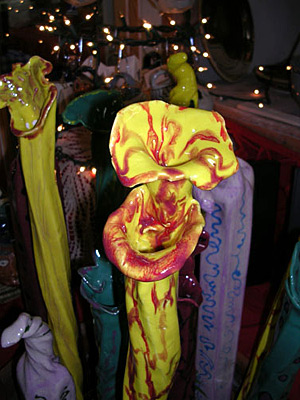 Pitcher Plants artwork by Maggie Clark
Live entertainment was provided by Dennis Devine and Valerie Fournier,
along with a wide variety of guest performers.
Mr Ethnic and the Barking Dogs made a guest appearance.
This local string band plays traditional old time music.
Dick Arto playing the mandolin
Harold Neal frailin' on the old time banjo!
Harriet Neal playing the mountain dulcimer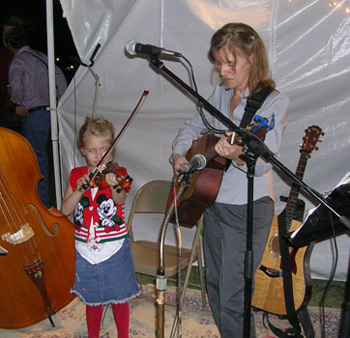 Kim Vermeer backing up 7 year old Ingrid Richter playing the fiddle.
The 2006 Joe and Rose Herrmann Community Service Award was presented to Dennis Devine at the annual RAGE (Rattlesnake and Gopher Enthusiasts) Appreciation Dinnner. The community service award is given to an individual who has shown outstanding dedication and service to the San Antonio Community.

This award is presented to a person who has provided years of dedicated community
service in the San Antonio and Dade City area community.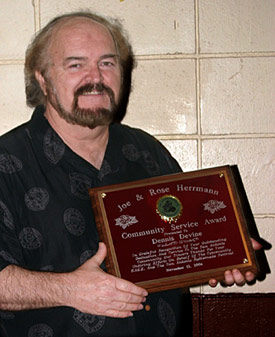 This year's Joe and Rose Herrmann Community Service Award
was presented Dennis Devine, local musician, teacher, and community activist.
The Christian Country Music Association, started by Gene and Brenda Higgins over 12 years ago, nominated Greg McDougal Best Christian Album of the year and other awards.

Well, now they have released the results for the top 10 finalists for The Inspirational Country Music Awards to be aired Live on the Gospel Music Channel Nov. 4th. from Nashville's Roy Acuff Theater out at Opryland.
Among a few other nominations, our CD 'The Work of a Carpenter' has been nominated as Best New Inspirational Country Music Album of the Year! Some of the other nominees in this category include Alabama and Alan Jackson! This is surely witness to the fact that this little 'Carpenter' project is a 'God Thing'! The work of THE Carpenter!