Pasco County Fair Association
Presents


July 3 & 4, 2008
http://www.pascocountyfair.com/sparklebration.htm
Kirkland Ranch Suit Dismissed
A long-running family dispute over the Kirkland Ranch is finally out of the courts.
The court dismissed a lawsuit July 11 following months of inactivity. The dismissal, agreed to by both parties, removes most of the legal barriers to the sale of the 1,700-acre ranch.
The Kirkland Ranch has been part of Pasco County lore for decades. Raymond Kirkland
and his father, Cicero, began developing the ranch in 1949. Property was added over the years and Raymond Kirkland became an important businessman in the citrus and cattle industries.
In 2004, Raymond Kirkland was in poor health, and his three children - Richard Kirkland, Laura Kirkland and Elizabeth Denney - took over running the ranch. In 2004, they sued to prevent their father's siblings - Jack Kirkland, Elizabeth Holloway and Anna Kirkland - from selling the ranch to a developer.

http://pasco.tbo.com/pasco/MGB82FY3J4F.html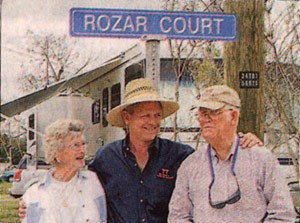 Bert Reil, Bob Larkin and Luther Rozar
DEDICATED NEW ROAD FOR HABITAT FOR HUMANITY HOMES - A San Antonio resident was honored by getting a road entitled Rozar Court. Below are Habitat volunteers celebrating the naming of East Habitat for Humanity's Rozar Court. This is a newly planned roadway where Habitat homes will soon be built. Luther Rozar and his late wife, Patricia, were honored by East Pasco Habitat for Humanity at the volunteer celebration when the roadway was named. The Rozars, with Cindy and Lamar Roberts of Dade City, were instrumental in establishing East Pasco Habitat for Humanity. Rozar is an active volunteer and has volunteered for numerous organizations and benefits.


Local Men Given Service Medals
U.S. Rep. Ginny Brown-Waite, R-Brooksville, presented medals to several veterans
during a ceremony this month.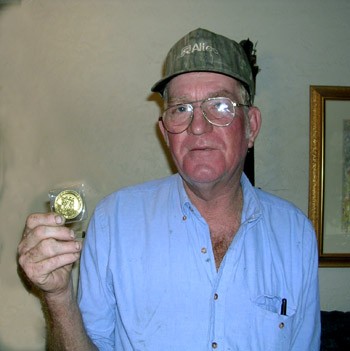 Richard Zeranski of Saint Joe, served in the US Navy from 1966 to 1970 and served in Vietnam. Richard went to Pasco High School and has done a lot of volunteer service for
the San Antonio community and for non-profit organizations. Richard is a professional
heavy equipment mechanic, having learned his mechanical trade as a jet engine mechanic
in the navy. He now puts his knowledge and talent to work keeping large farm equipment
operating for local farmers, and providing mechanical service on large diesel trucks.
Richard is also a home farmer, growing  and canning many of his own vegetables.
Although it took more than 60 years for William Evatt finally to receive his medals, the ceremony presentedseven veterans medals in recognition for the service to our country. William "Whitey" Evatt, a 77-year-old Zephyrhills man who served in the Army from 1944 to 1946, was bestowed the World War II Victory Medal, Army of Occupation Medal and a World War II honorable service lapel button.
The seven Pasco County military veterans were given awards medals :
Willam Evatt of Zephyrhills,  who served in the Army from 1944 to 1946
Lawrence Edward Dailey of Zephyrhills, who served in the Army from 1958 to 1964.
The late Steven Frank LaVallie, who served in the Army from 1942 to 1944.
Robert C. Letson of Zephyrhills, who served in the Navy from 1952 to 1956.
Richard Donald Rutter, Jr. of Dade City, who served in the Army from 1968 to 1970.
Barney James Scantling of Dade City, who served in the Army from 1965 to 1985.
Richard Zeranski of Dade City, who served in the Navy from 1966 to 1970.