Memorial Service for GiGi Corrigan
Saturday, June 2, 2007, 10:00 a.m.
Saint Anthony of Padua Catholic Church
32832 Massachusetts Avenue, San Antonio, Florida
Covered Dish Luncheon following in the Parish Center
Memorial contributions may be made to the
St. Vincent de Paul Society, P.O. Box 875, San Antonio, FL 33576
For more information, call Betty Burke
352-588-3825 (home) or 352-588-9827 (Park Place Antiques)

"The Garage Mahal" presented a local house concert featuring Jubal's Kin and Ingrid Richter and Dennis Devine on December 18th.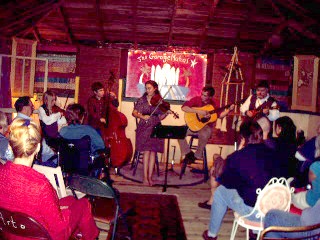 The Amundsen family band, Jubal's Kin, is from Eutis and  will helped  warm the place up with their amazing blend of music from gospel singing, rhythmic old time, soulful blues and folk music from around the world.
Check out their web site and scroll down to hear a few of their recordings.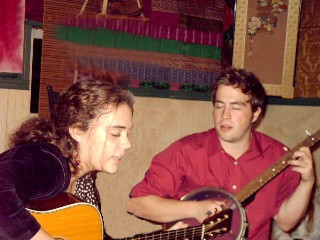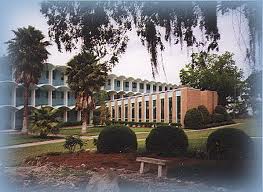 On October 3rd, 2012,Saint Leo University and the Benedictine Sisters of Florida exchanged documents, signifying the purchase by Saint Leo University of about a third of the Sisters' property immediately adjoining the Saint Leo campus, including all of the Sisters'existing buildings. The Sisters will erect a new monastery building to best fulfill their current mission and meet their current needs.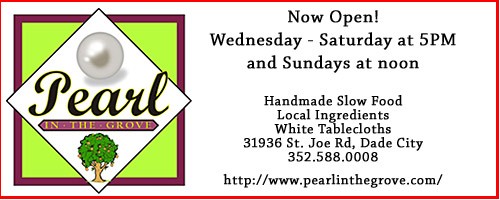 Cookin' Slow in Saint Joe
Pearl in the Grove
Now Open!


Wednesday - Saturday at 5PM and Sundays at noon
Handmade Slow Food
Local Ingredients
White Tablecloths
31936 St. Joe Rd, Dade City
352.588.0008
http://www.pearlinthegrove.com/
Thanksgiving is a time for family celebrations and reunions, Food and other festivities are plentiful here in San Antonio.  Below is a group photo taken by Eric Herrmann of the Thankgiving Family Reunion Nov 2009