San Antonio resident Norman Morris and his friend Bob Mullins started up the Appalachian Trail at Springer Mountain in North Georgia on March 20. Their journey is a 2,181-mile journey from Georgia to the end of the trail at Mount Katahdin, Maine.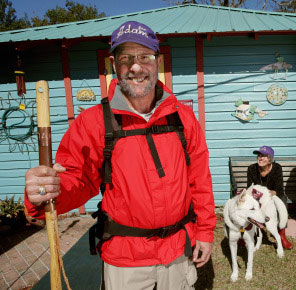 Some of you may have seen Norman walking every day for the past year while he was in training and preparing for the trip. He has been out searching for needed gear to complete his journey good form. He found boots he bought for $5 at a thrift store and bought for $15 at another thrift store. He and friend Bob Mullins hit Appalachian Trail and now we can follow them by visiting Norman's blog at Hiking for Adam.
When I asked him if he thinks he will make it the whole 2,000+ journey, he said, "Some people say they are going to try to walk the trail, I say we are going to walk the trail." His wife Rochelle will follow them much of the way by making numerous trips in their "Born Free" RV.
Morris is keeping a promise he made to his deceased son Adam during that camping trip after they met a 60-year-old man beginning his own trip up the trail that winds through 14 states, up mountains, through towns and across rivers before ending on Mount Katahdin in Maine.
Norman and Rochell memorialized Adam's life by establishing an Outward Bound scholarship in his name. Adam, at 16, had benefitted from the program, which helps young people experience personal growth through challenges in the wilderness. You can make donations to the trip by visiting Outward Bound
They continue to contribute with their own money, proceeds of small house concerts for folk and bluegrass musicians at their home and contributions from friends and supporters.
And proceeds from the trip will go toward the Adam Morris Outward Bound Scholarship fund that has, so far, sent eight underprivileged kids through the program, and to enterprises similar to those the couple began in Asia. Local charities also sometime receive contributions from the small amounts the Morrises raise on concerts.