Several members of The Rotary Club of San Antonio have formed a mentoring group for teen and pre-teen girls at Farmworkers Self Help in Dade City. The group has been meeting weekly since March in the newly-refurbished Teen Center on Calle de Milagros. Activities have included making costumes and learning a traditional Mexican folk dance, learning CPR, health care and vocational talks, shopping and make-up sessions, and travel to the Museum of Fine Art in St. Petersburg.
Recently the girls learned the basic principles and practice of self-defense from the Lake House Martial Art School, located in St. Leo. It was presented by Director / Master Instructor G. Morgan Becker and the Coordinator of Student Affairs, Master Instructor Joan Becker. The highlight of their self-defense class came during their last session when they learned that they could "break boards," a world-class confidence booster!
The Rotary Club of San Antonio meets every Tuesday noon in the clubhouse at Tampa Bay Golf & Country Club. Visitors are always welcome. For more information about The Rotary Club of San Antonio or about the mentoring group, call Betty Burke at 352-346-0349.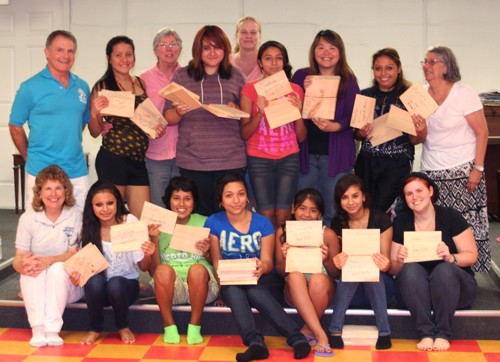 Photo
Bottom row: Lake House Coordinator of Student Affairs/Master Instructor Joan Becker, Angelica Pineda, Patty Jauregui, Citlalli Lira, Daniela Figueroa, Ana Chavez, Londa Edwards
Top row: Lake House Karate Director/Master Instructor Morgan Becker, Linda Ponce, Rotarian Betty Burke, Corina Atkinson, Rotarian Edna Hanson, Cinthia Muniz, Rotarian Julie Hsu, Marcela Muniz, Rotarian and Farmworkers Self Help Executive Director Margarita Romo
Created: 17 December 2011

17 December 2011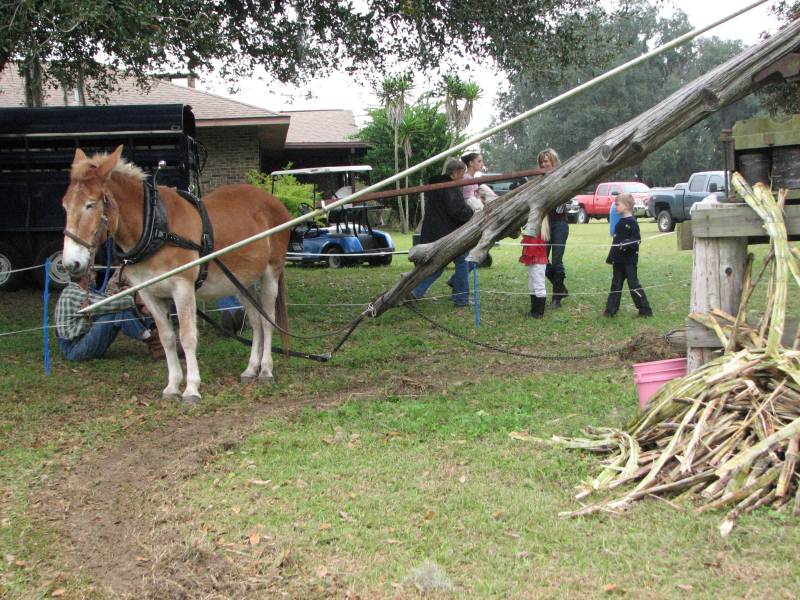 photography by Maggie Clark
Molly the mule was hard a work on the circle while the cane slowly grinde down. Nearby was a engine-powered grinder that worked even faster. Steve Melton explained, as Molly trudged along "This is how we used to do it in Florida."

Video by Maggie Clark

Melton held a cane grinding this month at his Pasco County and invited neighbors to join in the activity. Throughout Florida people used to grow sugar cane, harvested the stalks in the fall, squeezed the stalks into juice and then boiled the juice into sweet syrup they sprinkled into coffee or over pancakes or even meat. A cane grinding was also a social gathering in Florida. Steve explained that making cane syrup helps him keep in touch with the past. 'It's our heritage,'' Steve Melton said as he directed his crew to finish up the cane boil.

On the nearby porch there unamplified old time music with a banjo, guitar, fiddle, a mandolin player and a washtub bass. Knitting and other activites took place, along with many other traditional pastimes. Luther Rozar wore overalls and was seen explaining some of the old machines to the young men. Steve Melton has been collecting old tractors and farm tools for many years. He has antique machines that years ago dug holes and planted seed and harvested corn. The village blacksmith, Lewis Riggleman, was present and demonstrating using Melton's forge.

There was also has a working grist mill where they grind wheat.




Cane grinding requires knowledge and expertise, hard work and long hours.. A 10th of an acre of cane produces about 60 gallons of juice. Sixty gallons of juice might boil down to six gallons of thick cane syrup.
After about three hours over the fire, the cane juice stopped boiling and started bubbling, which meant it was getting thick. Steve Melton waited until the thermometer that indicated 212 degrees. He used a hydrometer to help him measure the density of the syrup.
The old timers would stick in a spoon and watch how the syrup was dripping.
Once the syrup was ready, they would start
ladling syrup out of the kettle and into a 6-gallon vat.
People would gather around the vat and share in the experience. The cane syrup goes well with biscuits that were being made fresh for the occasion. The event has become a community activity that many local people enjoy. It is a very traditional event that allowed us to share our country heritage. We are grateful for Steve Milton and family sharing this tradition.
Neon Cowboy is History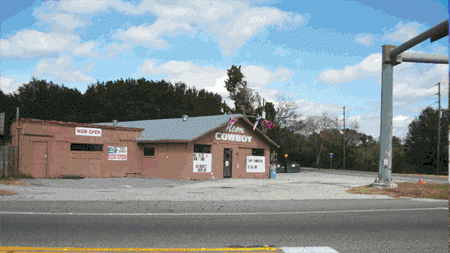 Neon Cowboy is gone...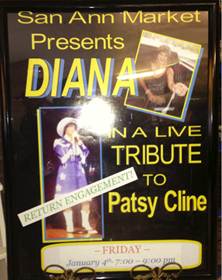 Songbird Diana's wildly popular Patsy Cline Tribute happens again
on Friday 01/04/13 in a return engagement at the San Ann Market in San Antonio, FL.

The performance is free so, if you want to hear a beautiful voice singing Patsy Cline's best,
please stop by. Come early. Diana's Patsy Cline Tributes can draw big crowds.
But the food's always good at the San Ann Market.

Eddie Herrmann of San Antonio racing in
1949 Dade City Soap Box Derby